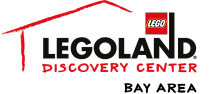 BAY AREA LOCAL WINS LEGO® DREAM JOB OF A LIFETIME
LEGOLAND® Discovery Center Bay Area Crowns Its New Master Model Builder 
MILPITAS, CA (July 28, 2023) LEGOLAND® Discovery Center, found a Bay Area local to get paid to play with LEGO® bricks. Literally. Lester Mendaros from Newark won the Brick Factor competition and now has the title of Master Model Builder. This role will help build memories through various LEGO creations, classes, and more at the new attraction. Even cooler, their office will come with millions of LEGO bricks and be in the heart of the 'ultimate indoor LEGO playground'!
Top applicants were invited to compete in Brick Factor 2023, a unique live competition that took place yesterday, at the Great Mall in Milpitas, culminating with a LEGO brick drop and job offer for the winner. Seven participants took part in three rounds of timed freestyle builds using their imagination and skills in an elimination-style competition while interacting and engaging with kids who came to watch and be a part of the fun in the lively marketplace.
About LEGOLAND® Discovery Center
At LEGOLAND® Discovery Center, families with children aged 3 to 10 can enjoy a world of creativity, color and building fun in the ultimate indoor LEGO® playground. With features including landmarks made from nearly 1.5 million LEGO bricks in the MINILAND® attraction to fun and exciting LEGO themed rides like Imagination Express. Then watch as your favorite LEGO characters come to life in the 4D Cinema. Get hands-on with the thousands of LEGO bricks in themed build and play areas where kids' imaginations can run wild with the endless possibilities that LEGO play offers. Adults must be accompanied by children to enter. Visit legolanddiscoverycenter.com for more information.
There are additional LEGOLAND Discovery Centers in: Arizona, Boston, Chicago, Columbus, Dallas-Fort Worth, Kansas City, Michigan, Philadelphia, San Antonio and Westchester (NY), USA; Toronto, Canada; Manchester, UK; Berlin and Oberhausen, Germany; Istanbul, Turkey; Osaka and Tokyo, Japan; and Shanghai, China.